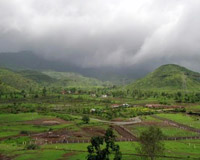 Discovered in 1850 by Hugh Poyntz Malet, the then District Collector of Thane District, Matheran was a popular hill resort for the British. It was the perfect way for them to escape the scorching summer heat in India, during their colonial regime. Later, Lord Elphinstone, the then Governor of Mumbai, pioneered the development of Matheran as a future hill station of India. Located at a height of 800 m (2,625 ft) above sea-level, Matheran is one of the tiniest hill stations in the country.
Its close proximity to the nearby cities of Mumbai (100 km) and Pune (120 km) makes it a favorite holiday destination among the tourists from all parts of the world. Literally meaning "Mother Forest" or "Forest on Top", what makes this quaint place unique is that excluding emergency vehicles, all other vehicles are banned here. Within the vicinity of the town, ponies and man-pulled rickshaws are the only modes of transport. Even the cops ride on ponies inside the town. Many people also prefer to travel this distance on foot, enjoying the hill station's verdure and beauty.
Thus, with its red laterite roads, lush vegetation and country atmosphere, this little hilltop of Matheran emanates a rustic appeal, beguiling everyone who visits the place. Along with its arresting landscape and countryside serenity, Matheran also harbors a lot of colonial architecture and relics that are now preserved as heritage structures. These architectural splendors, along with the pastoral feel of the place, whispers of a bygone era and makes one feel heady and nostalgic to the core.
The majestic cliffs with their alpine heights provide some enchanting views of the vistas of green embellishments below. The "Hart Point" is a vantage point that gives a magnificent view of Mumbai at night. One can see thousands of lights flickering below, that makes the city look like a tinsel town. With its isolated location, eco-friendly atmosphere and ideal climate, Matheran becomes an ideal place for picnics, bonfires and merry-making. Infact, this pleasant climate has given a boost to the travel & tourism industry of the hill station.
One can enjoy the specialties of the place- honey and 'chikki' (peanut brittle) as they sit beside the fire or just indulge in midnight conviviality and enjoy the place's old-world charm, sitting under the surreal moon, Moreover, the colorful main bazaar of Matheran, with its glass birds, hats, chappals, cane and leather items (bags, belts, shoes) sold at reasonable prices are an instant draw for the tourists. Wait no more! Come to Matheran and lose yourself in the panoramic beauty of the hill station!
If you want to visit a place which is a hill station but really different one or unique hill station - Matheran is the best choice. This is the place truly loved by all - Picnic Lovers, Trekkers as well as jungle lovers. Matheran was founded by Collector of Thane - Sir Mallet in 1880.
Matheran is famous for its train, which runs from Neral to Matheran. This small train covers the distance of 21 Kms in 2-2½ hrs. Journey through this train is really enjoyable. The train goes through deep forest and one can see the beauty of jungle. Matheran is truly a unique place as it is 'Pollution Free Town' . No vehicles are allowed here and hence total area is free from pollution. You can either walk the town or travel on the back of horses.
The climate of Matheran is very cool. The most unforgettable things about Matheran is deep forest and the waterfalls nearby, especially in rainy season. The beauty of the hill station gets doubled in monsoon. Matheran is truly 'The Best Hill Station in Maharashtra. There are many places to see in Matheran.
Sharlott Lake : The main water source of Matheran 1 km from main market.
Panorama Point : This is 'sun-rise' point. The longest point in Matheran. Almost 6 kms from market. One can see 'Neral' on east and 'Panvel' on the west of the point. The other points in Matheran like Sunset Point, Monkey Point, Maldunga Point and Heart Point etc. are also to the west. If weather is good, you can see Khandala and Bhimashankar ranges as well. Truly, 'the king of all points' is Matheran.
Sun-set/Porcupine Point : Famous for Sunset. A deep forest nearby can be easily seen. 'Prabalgad' can also be seen from this point. Around 4 kms. from main market.
The other famous points in Matheran are Loisa Point, Echo Point, Chowk (One tree Point), Garbett Point, Eleward Point, Pemastar Park, Navaloji Lord Garden and Cathedral Rock.