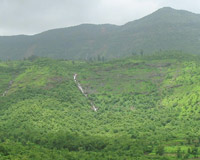 Matheran can be aptly described as a tiny oasis of warmth, beauty and serenity, located amidst the magnanimousness of nature. A little jewel in the crown of Maharashtra's tourism industry, this tiny hill station is one of the most exquisite and beautiful hill stations of the state. Placed at an altitude of 800 m above sea level and situated at a distance of 100 km from Mumbai, the major tourist attractions of the place are its 38 vantage points that offer breathtaking view of the whole place and its nearby areas. Here is a list of some of these major lookout points, which must be included in the sightseeing tours of the place.
Echo Point
This is a crucial point that offers a panoramic view of the whole place. As the name suggests, Echo point is well-known for allowing you to enjoy your echoes. This has made the place very popular amongst locals as well as tourists.
Charlotte Lake
This lake is the main source of water supply in Matheran and a major point of the place. It is located at a distance of 1 km from the main market and looks idyllic during the monsoons, but dries up during the summers.
Louisa Point
Located on a plateau, this famous lookout point offers a spectacular view of the ruined forts of Prabal and Vishalgarh. The famous "Lion's Head" (a rock resembling a lion's head) is located close to it.
Alexander Point
It is a famous point located 1 km towards the north of the place. This point provides splendid views of the Garbut Point, the Chowk valley and the Ulhas River, and is a favorite among the sightseers.
King George Point
During the monsoons, water from the nearby Charlotte Lake overflows and forms various waterfalls around the place. This is the point that beautifully captures these waterfalls and hence is a popular point during the season of showers.
Sunset/Porcupine Point
Located at a distance of 4 km from the main market, this point is famous for its views of the setting sun. This point offer views of a dark forest below. Prabalgad can also be seen from this point.
Monkey Point
It is a well-known point, famous for the large number of mischievous monkeys that throng the place. The point also offers a mesmerizing view of the verdant plains below.
More Tourist Attractions
Other important points are Heart Point, Malang Point, Honeymoon Hill, Lords Point, One-tree Hill, Olympia, Paymasters Park, Artists Park, Mount Barry, etc.