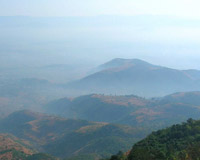 Climate:
Mild
Summer Temperature::
32
o
C (Maximum)
Winter Minimum:
16
o
C (Minimum)
Annual Rainfall:
524 cm
Best time to Visit:
October to June
A fascinating hilltop, nestled at an altitude of 800 m (2,625 above sea-level), Matheran is 100 km from the nearby city of Mumbai. The sprawling hills below and the majestic mountains around make the place an ideal vacationing destination. As no fuel-run vehicles are allowed inside the town, the atmosphere of the place is congenial with a salubrious touch in the air. In fact, it has been declared as an eco-sensitive region by the Union Environment Ministry.
Because of its high altitude and verdant vegetation, the climate is generally cooler and the humidity is less. This makes it a very popular holiday getaway during the summers. Infact, the summer season here generally lasts from March to the end of June and during that time, the weather is comparatively cooler here than the other cities of Maharashtra. The temperature during this time can soar to a maximum of 32
o
C. But like in the cities, the heat is not searing.
Tourists from the nearby cities of Pune and Mumbai visit Matheran even during the summers to escape the heat and humidity that is inflicted by the urban sun. Moreover, the waterfalls that gurgle incessantly through its bosom and the constant mountain breeze that blows through its dense forests, make the summers mild and pleasant.
Like the summer months, the winters in Matheran also escape the extremes of nature. During the winter season, which generally lasts from November to mid-March, the temperature drops down to a minimum of 16
o
C. The climate remains pleasant with slightly cold evenings, but the days are comparatively warmer. The sun is soft and solacing during this season. The climate remains perfect for basking in the glory of the winter sun and also indulging in merrymaking and revelries around bonfires.
With the onset of Monsoon (mid-June to mid-October), the walking trails that girdle the place become muddy, making it difficult for walking. The monsoon showers are not mild drizzles, but come in the form of roaring rainfalls and thunderclaps. As the roads are of red laterite and are not tarred, a trip to Matheran should be avoided during the rainy season. Moreover, as it becomes prone to landslides during these months, the place shrinks into its own cocoon and virtually shuts down. The best time to visit the place is from October to June.